Finally, just got my hands on the Galaxy Tab 10.1 about a week ago and spent some good amount of time trying to get familiar with this beast, there are ups of course but there are some really damning let downs as well. however; you'd want to read onfor the full story.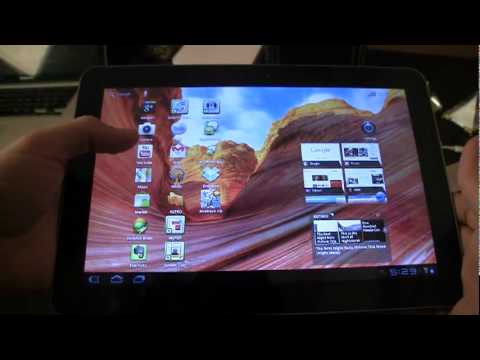 Reception: It didn't take much for me to receive my Tab 10.1, less than a week in fact since I've first ordered it on impulse. (I really wanted to read my magazines on a tablet instead of hauling around a bag full of them!).

First Impression: I expected the whole package to be fairly light… but honestly not this light, it did cost me however 9+ KDs to for shipping charges of course. The Packaging was neat and simple, no fancy stuff here, The white rectangular box came secured with two (non-destructive) adhesive tapes in the bottom. Inside the box You'll be greeted with the Tab itself, and You'll have that "this can't be 10.1 inches?!" moment, but it is… on a wider scale. You hold the device and it's rock solid, al my fears that the plastic back cover would give it a cheapy feel were eradicated instantly! Beneath the Tab, you'll find the rest of the necessities: Charger hub, USB cable, headphones and a surprisingly small manual/instruction booklet. That's it. The device is light, lighter than anything out there (lighter even than the mighty iPad 2) and it felt really natural holding the the tab with one hand and even more so with two. the back grayish cover gave it a cool look and the texture on it felt somehow wooden (in a good way). upfront, it's all black, no buttons no hassle, simply slick. The device hosts a power/lock button, a volume up/down button audio jack, two stereo speaker side slots and a connector slot in the bottom.
OS and Usage:
I loved the Honeycomb, the retail version I got from Amazon came with the latest 3.1 version of El Googs goodness, the setup process didn't take much, a couple of clicks and swipes and I was good to go. The OS felt smooth, no lags, no broken transitions, the best Android experience I had. The layout was intuitive, most likely because I'm familiar with Android devices, people coming from Cupertino's Apple seeds might have some unfamiliarity issues there but nothing you can't learn in an hour. Everything felt so customizable and it everything actually is. the Screen was really amazing, literally glowing at you and wants you to swipe your way through. Everything was great until I was struck with the fact that I couldn't download any apps due to the Market restrictions (Dam'it!). Now here's the thing, a tablet is virtually useless without Apps in it… I mean it came with some really great preinstalled apps, especially the QuickOffice app that lets you explore your device's files and create Word, Excel and Powerpoint documents and more, but seriously, you need games, apps and more apps!
Point to be made: The device is relatively new, so no quick rooting has been made yet (not that I encourage it, however, I've already found ways on how to root it), ergo; no Market Access. So, after some tinkering, I've found a way to overcome that hurdle and now my device is "Appful"… so to speak.
All in all, I'm in love with this thing, it feels more alive than an iPad, more "cozy" in ways, the battery is beautiful and lasts you a full day of game crunching, movie watching, web-surfing, apps fiddling action!
My Take: The Samsung Galaxy Tab 10.1 is a star in its own right, I love how it handles, the interface, the customizability. If you feel a bit adventurous and not ultimately hooked on Apple's iPad 2 or their interface, then you should give this a try. However, if you're not keen on experimenting outside the big Apple, than you're safe with the iPad 2.  I'm using a wifi version and it doesn't bother me a bit since I tether my Galaxy S or iPhone 4 with it when I need internet access, but if you feel like you want the Tab but wants a cellular version, then you better wait a bit for that to happen, will keep you posted.
If you have any questions, let me have them and I'll try my best to bring you an answer.
Spec Sheet (Reviewed Model):
| | |
| --- | --- |
| Dimensions |  256.6 x 172.9 x 8.6 mm, 565 g |
| Display | 10.1″ 16M-color WXGA (1280 x 800 pixels) PLS TFT capacitive touchscreen |
| CPU |  Dual-core 1GHz ARM Cortex-A9 processor, ULP GeForce GPU, Tegra 2 chipset |
| RAM |  1GB |
|  OS |  Android 3.1 Honeycomb |
|  Memory |  32 GB storage |
|  Camera |  3.15 megapixel auto-focus camera with 720p video recording; LED flash, 2 megapixel front facing camera |
|  Battery |  7000 mAh |
| Connectivity |  Wi-Fi a/b/g/n, Bluetooth 3.0+HS, 3.5mm audio jack, FM radio, HDMI TV-out (through an adapter), USB host (adapter required) |
| Misc |  DivX/XviD codec support, built-in accelerometer, multi-touch input, proximity sensor, 4 way gyroscope sensor |
| Preinstalled Apps | Full HTML Web Browser, Books, Browser, Email, Gallery, Gmail™, Google Maps™, Android Market, Google Search™, Google Talk™, Voice Search, Latitude, Music Hub, Navigation, Places, Pulse, QuickOffice, Samsung Apps, YouTube, Music Player |