Movie Title:
The Avengers (Avengers Assemble / UK)
Director:

Starring

Production House:
Marvel Studios, Paramount Pictures
More Info:
Plot (Summarized – May Contain Spoilers):
In a senseless attempt to satisfy his thirst for revenge and might, Loki (Tom Hiddleston) is attempting to assemble an army of an alien nation that goes by the name "Chitauri" (to you who speak Persian, I know…) in order to conquer and rule earth and consequently ended up successfully stealing The Tesseract; an unlimited energy source of some kind that comes in the shape of a cube.
S.H.I.E.L.D. under the leadership of Nick Fury (Samuel L. Jackson) sent their agents to find and recruit who would now be known as "The Avengers" to stop Luki, retrieve the Tesseract and stop an alien invasion in the process.
My Take:
When I first wrote about the avengers back in August 2011 I was so enthralled about the idea while in the same time so petrified it would simply suck.
I mean c'mon, this movie is full of stars that there are barely any stars left up there to look at! It's the ultimate conflict of interest, a hybrid stew of fish and meat… it just can't work
Boy was I wrong…
Many have though "Joss Whedon?! How, why?!" but the dude proved himself a master of direction! To be able to synchronize the cast in a way that just sing in harmony is not an easy feat and he did it like he's been doing it all his life!
I can't remember an emotion that I did not feel throughout the movie, it was a rollercoaster of multiple genres that should not have worked out but it did, from beginning to end, there was intensity, awe, shock, fear, grief, happiness and a senseless but well employed comedy.
The cast just seemed to complete each other, with all their differences somehow Mr. Whedon made it all seem like all of the cast were made for their parts and now that I've seen the movie, I can't imagine what the movie would have looked like without all of the current cast in it!
The camera work was stunningly complex yet fluid and easy to follow, backed up by a constantly adaptive soundtrack and SFX, the CG work was as brilliant as ever.
The whole thing was an eye-pleasing symphony of super-hero action mash-up… What on earth are you waiting for?! It's a simple three-step procedure:
1-    Watch it in the Theater
2-    Watch it again
3-    Buy the Blue Ray version when it's out AND watch it again!
Now go!
PS. Don't leave the theater when the movie ends, as usual, there's a little post-credit "stuff" for you after the ending, Enjoy
Rating:
5 out of 5
(I would have given it 6 out of 5, but Cinescape "KNCC" took the bonus 6th star out of the movie: Read below for some rant)

Trailers: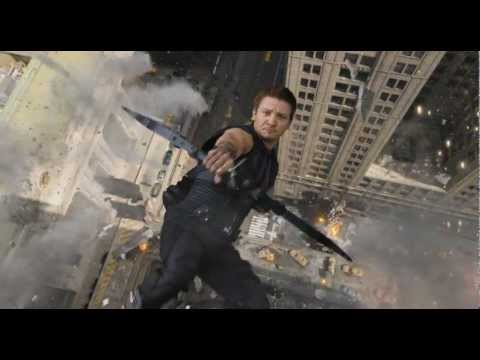 A message to KNCC (Cinescape):
Really?! I can understand the usual censorships but to have jumps and cuts during fight-scenes and conversations?! I mean it's not like the hulk is kissing his enemies to death!! And just in case it didn't sink in yet, many of us DO CARE about the progression of the story line and the conversations that convey it.
PLEASE stop, stop doing that, stop cutting down the show time on our expense; it takes the fun out of the movie, disturbs the flow of the action and just leaves you with an uneasy feeling of "disturbance", you should have heard the murmuring and dissatisfaction in the theater after each and every cut… I mean really??
We still love you guys, just take it easy with that knife of yours. Cheerios!